What is Automated-Agent ℠?
A solution for life emergencies
Automated-Agent ℠ is an online service that detects when you become inactive and will email your friends or family members in case of emergency in accordance with your directives. With Automated-Agent ℠, you may designate beneficiaries to receive a list of your assets, ensuring your assets are never at risk of becoming unclaimed property.
An online password manager
Automated-Agent ℠ is a secure web portal to safeguard all your essential personal information in one virtual location, such as online passwords, PINs, or other private records.
A virtual safe for documents accessible from anywhere 24/7
Your private, secure cloud server to store and access any and all your essential documents: will, power of attorney, health directives, trust and much more.
---
Automated-Agent ℠ helps you plan for (almost) anything: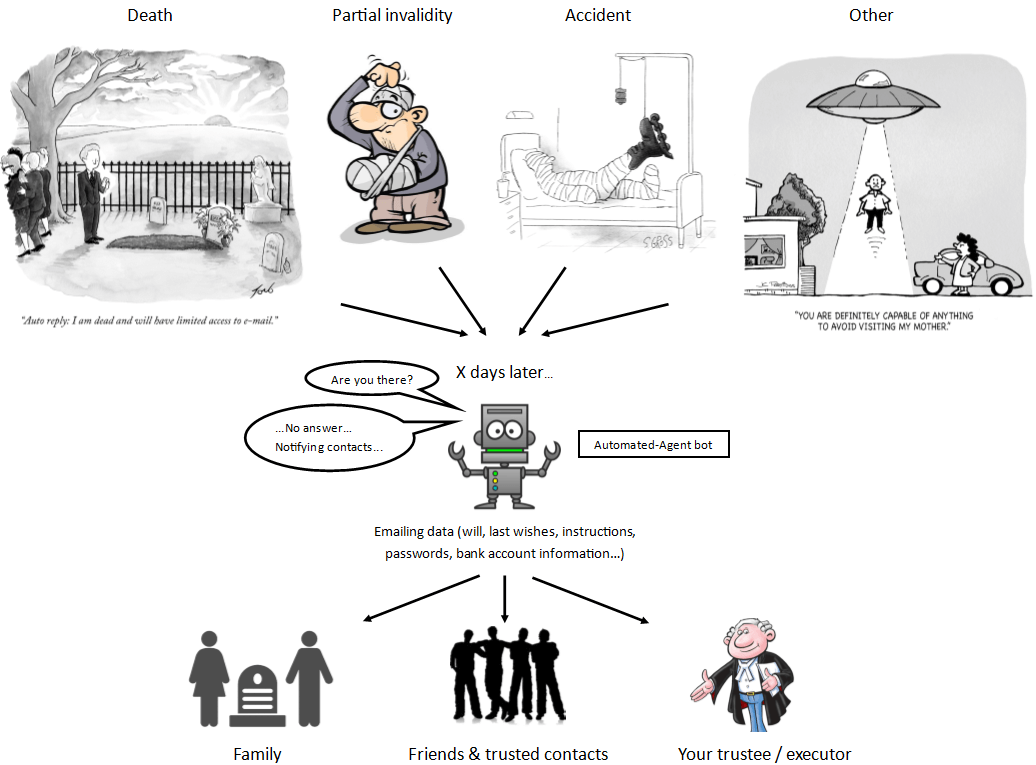 ×
---
The Problem
As we all know, life happens on its own schedule, up to and including death. Calamities, unforeseen emergencies and unplanned interruptions have the potential to cause chaos in your personal affairs. The inherent unpredictability of your own death or incapacitation is not an issue that's discussed very often in life – but it makes the inevitable event very difficult to accurately plan for.
Do you know what will happen to your bank account after you pass away? What if you become hospitalized and are unable to attend to urgent matters or pay your utility bills? Maybe you were planning to return from a trip after a week, but your stay is unexpectedly extended to a few months, or longer...
Even if close family members have the time to handle your estate when you pass away, there are a host of dilemmas that they will need to confront when that day comes. Wouldn't it make things easier if you could automatically share with them any directives, wishes or details to make sure everything is handled as straightforwardly as if you were still there?
---
The Solution
Using the Automated-Agent ℠ web site, you are in control. You dictate who is contacted and when; you specify exactly what you would like to say or share. Once our bot recognizes you have been inactive for a configurable preset period (30 days by default), Automated-Agent ℠ will automatically email your designated contacts with a secure link to your information.
There is no limit to the number of tasks you can schedule with Automated-Agent ℠. For example, you may opt to arrange an initial email to be sent after an absence of 1 week, another one after 30 days. You may schedule different emails to different contacts.
Once you register for an Automated-Agent ℠ account and provide the details of what to send and when, there is nothing else for you to do except ensure that you remain in "Active" status with our server.
---
What does "Active" mean?
You can choose how you maintain your "Active" status with the Automated-Agent ℠ system:
Automatic: Easily configure your device or computer to connect with our server automatically at regular intervals. This option takes less than two minutes to set up.


Manual: Log in manually to the Automated-Agent ℠ portal. Your chosen email trigger time interval will dictate how often you should log in. For example, if you choose to have notification emails sent to your contacts 30 days after you become inactive, you will need to log in at least once every 30 days.


Take no action until you receive warning notices (configurable) from our server several days before any emails are sent to your contacts. When you receive the warnings (sent daily as a safety), you will have the option to cancel or postpone any emails to share your data.
Sign up
Questions? Please see our Q&A section.

---
If you are already a registered Automated-Agent ℠ user, please log in to:
Set up automatic email notifications to notify your family members, close friends or beneficiaries in the event of your death or incapacitation;

Maintain and customize your list of individuals to be notified;

Upload your confidential information and specify which documents you would like to share with which contacts in certain scenarios. Documents might include your last will and testament, health directives, websites, passwords, life insurance documents, funeral arrangements, investment information, videos, photos, bank records, social media access, etc…

Organize your confidential data into your personal, secure online repository for your own private use.
---